My Bonneville Journey
My journey to Bonneville started after I bought my first sportbike in 2005. I was planning to go to the 2005 USFRA World of Speed, but shortly before the event, it was canceled due to the course being underwater :(
---
2006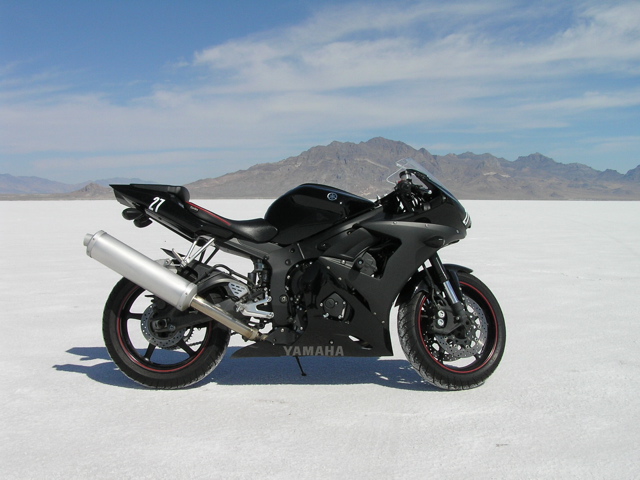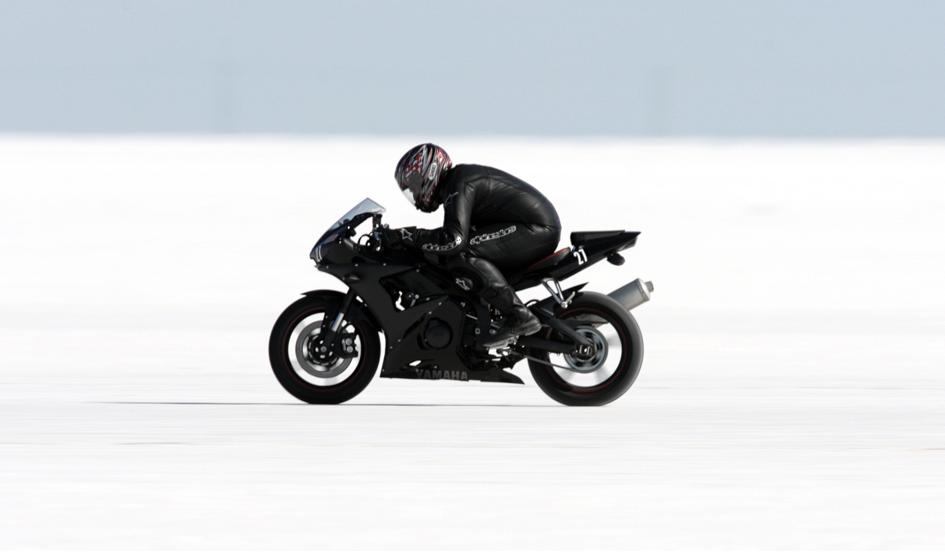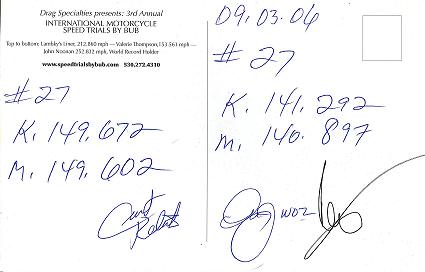 September 3, 2006. First year at Bonneville and the Bub Speed Trials, 2005 R6 with only minor mods (Power Commander III, K&N Air Filter) running on pump gas, though last run with ERC fuel. Best run was 149MPH, the speedometer read 164.
---
2007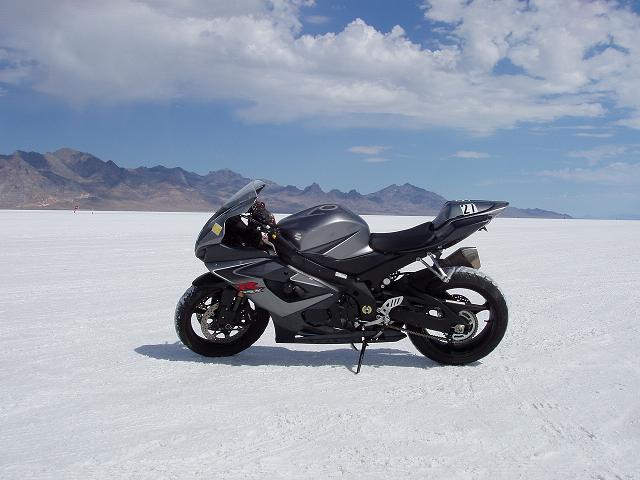 September 2, 2007 again at Bub. New bike (2006 GSX-R 1000) but pretty much stock running on pump gas.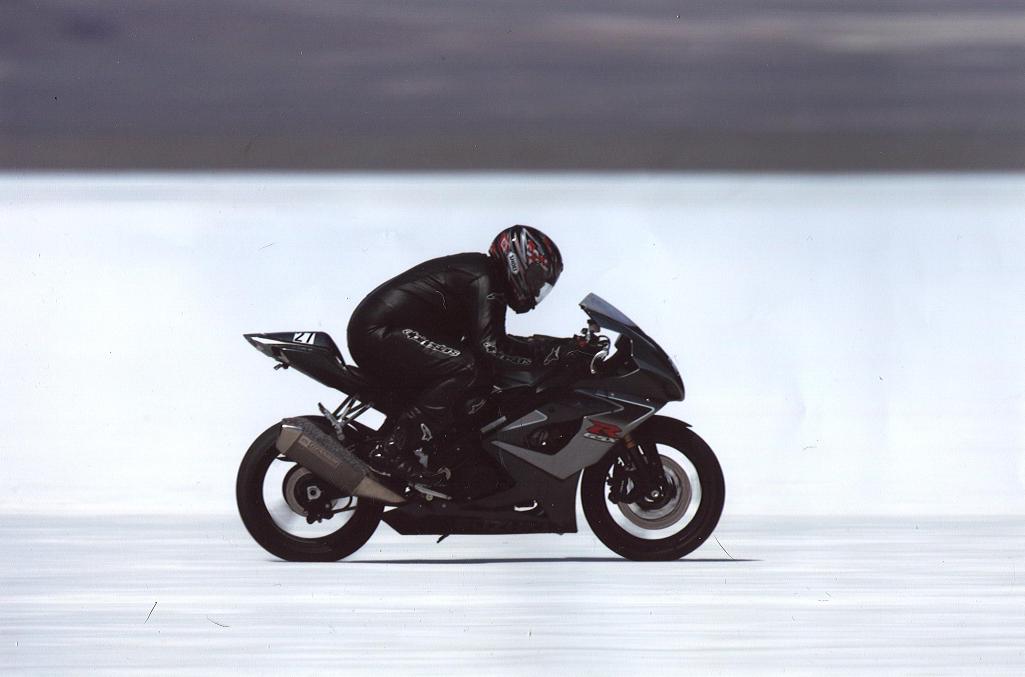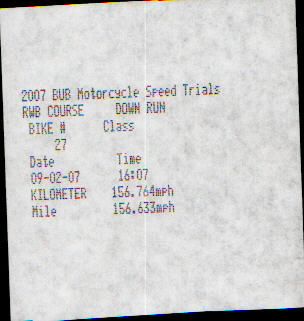 156MPH, only 7 MPH faster then my R6... a little disapointed since the bike should do 185+ MPH (though that is with a skilled smaller rider on asphalt), but I blame it on poor salt conditions... oh, and the lack of skill. I'll do better next year ;)
---
2008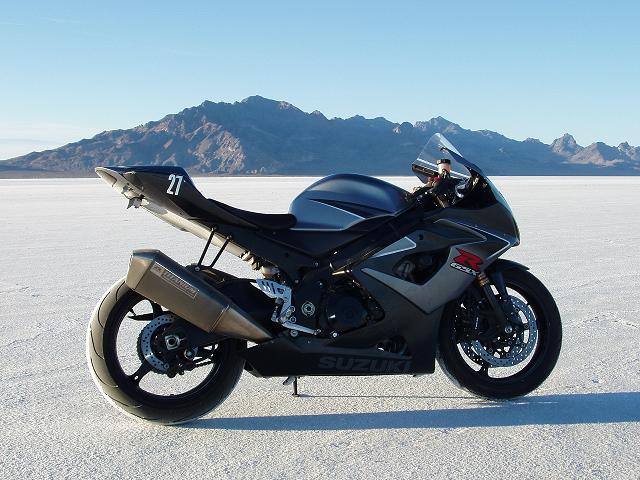 September 2, 2008 bike with a few minor mods running on pump gas.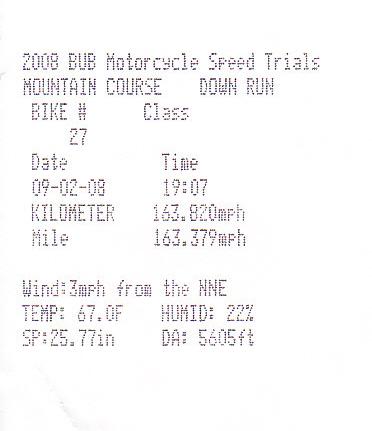 163MPH (though speedo read 181MPH), again 7MPH faster then last year.
New Mods for 2008
K&N Air Filter
Power Commander III
Zero Gravity Double Bubble Windshield
Graves Smog Block Off Plates
Iridium Spark Plugs
TRE
PAIR system removed
Synthetic Respol Oil
---
Missed 2009 and 2010 :( Getting ready for 2011!
---
Plans for next time
Go through the traps near redline (Stock sprocket ~172 MPH)
Speedo Healer
Disable/Remove SET valve
Metal Chain Guard (Paint black)
X-TRE (I want my gear indicator back)
Rear Socket to AFAM 41 tooth (should allow 176 MPH)
or Rear Socket to Vortex 40 tooth (should allow 181 MPH)
Yoshimura Tri-Oval Slip-On Titanium (high or low)
Dyno Tune
Yoyodyne frame slider and tie down conversion kit
Maybe Dry Nitrous (MPS Spyder kit)
Maybe Factory Pro Velocity Stacks
Maybe lower bike (front strap, rear with links)
---
Plans for After 175 MPH
Saftey wire for FIF or AMA standards
Kill Switch Teather
---
Future Plans
Goal 175MPH to Qualify for the long course
Goal 200 MPH (Then I will retire :) )
Nitrous (maybe start with Dry and then Wet later on)
Rotary Steering Stabilizer
Race Bodywork (Loose headlight, etc.)
Motor Build Up
Velocity Stacks
Forced Induction (most likely Velocity Turbo Kit)
Ceramic wheel bearings?
Maybe Drag Seat
SCTA legal leathers (so I can go to El Mirage and Speed Week)
Enclosed trailer
Gearing info from gearingcommander.com