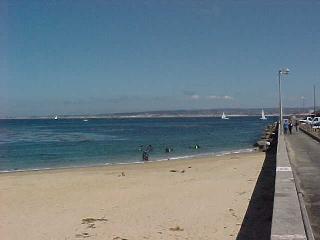 Diving Breakwater March 16, 2002
Melissa started her diving career as a Monterey cold water diver. During a lapse of judgment, however, I let her dive in the warm waters of Hawaii. That was it, Melissa became a WWW (Warm Water Wuss). Some how, I think it was a lapse in judgment on her part, she agreed to try cold water diving again.
So we leave the house bright an early (10AM :) ), and head down to Monterey. This late in the morning, traffic in San Jose/Morgan hill sucks. There must have been some sort of golfing event at the course off 101, even a CHP officer drove his car up the embankment to watch the event.
After a very long drive we make it to Monterey.... white caps and surfers everywhere. We wanted to dive at Copper Roof, but after another long drive around Monterey, Pacific Grove, and Carmel, Breakwater was the only diveable beach.
Breakwater was flat, but there were very few divers. I think the weather predictions that we ignored might have scared everyone off. Parking by the stairs, cool.
Visibility was bad, about 10-15', and above 15-20' we got pushed around a little by the surge. One of the high points of the dive was finding a yellow nudibranch. Last month we went to a BAUE meeting with Dave Behrens, author of Pacific Coast Nudibranchs, so ever since we have been on the lookout for nudibranchs. Near the end of the dive we found an upside down twin haul boat, it was less then 10' long with kelp growing on it. Next week, Melissa wants to try out a back plate and wings... I am moving here toward the light...