Diving The USS Hogan Wreck
October 28, 2001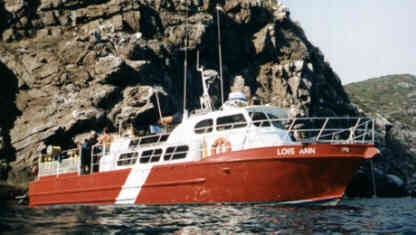 (This picture was stolen from www.loisann.com, I didn't bring a camera on this trip)

This trip was aboard the Lois Ann (www.loisann.com), out of San Diego. Here is the report I wrote for the BA_TechDiver list:

Yesterday I dove the Hogan wreck as part of a Captain Woody's Tech Charter on the Lois Ann. The wreck is located between the Coronado Islands and the US/Mexican boarder. We had 60' of visibility on the surface, and about 30-40' of visibility on the wreck. Water temperature on the surface was about 65 (Good for decompression) and on the wreck it was about 55. The stern section of the wreck rises up about 20' from the sand and is surrounded by schools of fish. The wreck is covered with soft coral fans, and small red anemones. The middle part of the wreck is basically a rubble pile, but you can see machinery and large propeller shafts. The bow section of the wreck is upside down and doesn't rise very far off the sand. I did two dives on the wreck each dive was about 40min with decompression, and my maximum depth was 128'.

Then someone asked for info about my dive I wrote this:

I dove the Hogan on 28% nitrox, and 50% deco gas. I created tables for the dive with Mplan and adjusted the tables so that it would allow my Vyper computer to clear since it can only take into account the 28% nitrox and not the 50%. Basically I would create a table with Mplan, then I would use the Vyper simulator to see if the plan would work on the Vyper. I didn't include 10' stops since I thought seas would be rough, but I ended up going REALLY slow from 15' to the surface so it was like a short 10' stop. The Gradient factor was set to High Gradient .9 and the Low Gradient .4. This was the plan:
130' for 20 minutes
40' for 2 minutes 50%
20' for 2 minutes 50%
15' for 7 minutes 50%
Then 90 min surface interval and
130' for 15 minutes
30' for 3 minutes 50%
20' for 1 minute 50%
15' for 6 minutes 50%
Since I never really got to 130' my computer cleared me to surface before the tables. Conditions were so nice (warm/clear blue) I actually stayed longer on my stops and just played with buoyancy and enjojed the view. I was also waiting for the decompressing crowd above me to move up the anchor. If I do the dive again I will plan for longer bottom times, like 30+ minutes and explorer the wreck more.
Click here to read a report from another diver on the trip