Diving The Oil Rig Grace
April 1, 2001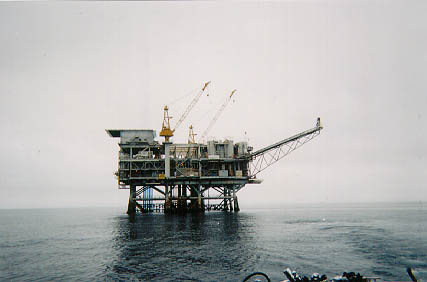 This trip was announced on the CA-Techdiver mailing list so it was pretty much a "Tech Diver Trip". The trip took place aboard the dive boat Peace (www.peaceboat.com) out of Ventura. Lots of doubles, argon bottles, and stage bottles.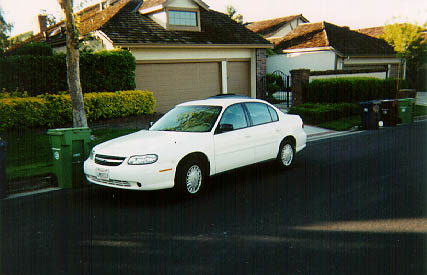 Wasn't sure if the jeep would make the trip to LA, so I rented this car. The car was alright, could keep up with traffic pretty well while hauling all the dive gear. I usually take Highway 5 when going down to Southern California, but since the boat was leaving out of Ventura my wife and I took Highway 101 and 1, making a stop at Hearst Castle.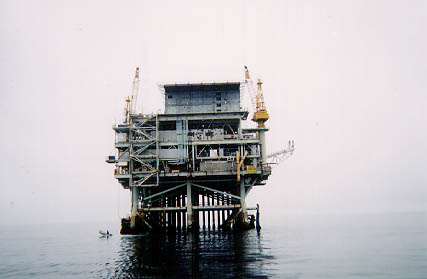 In this picture you can see the small chase boat looking for surfacing divers. The Peace dropped off divers at the rig, and then waited for them to surface. Once the divers surfaced the Peace moved close enough to the rig so the divers could swim to the boat.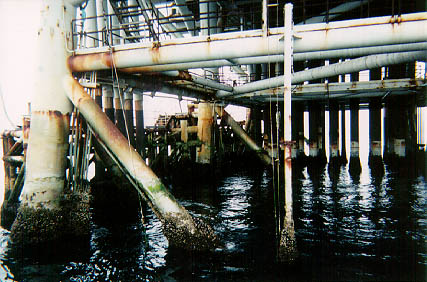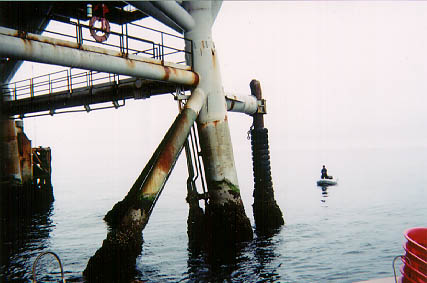 All the diving was done inside the rig. You can see the chase boat again on the right. While I was taking a nap below after my dive, the Peace actually hit the oil rig, luckily we didn't sink.