Diving Tahoe
Meeks Bay August 15, 1998
We started our adventure wanting to dive the sunken barges at Emerald Bay, but when we got to Tahoe we found out that Emerald Bay is a Boat dive unless you want to hike a mile in full dive gear.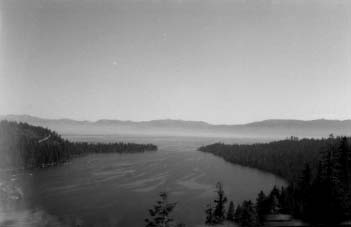 Emerald Bay (a mile up the hill)
Next we drove a couple miles up the road to the D.L. Bliss state park. At 10:30am it was closed because a large group of divers had gotten there earlier and taken all the parking. Continuing to drive north we looked for any place to dive. We decided to give another state park a try, Meeks Bay. First thing to know if you want to goto Meeks Bay, bring three dollars in one dollar bills for the automatic parking gate, better yet bring enough ones to make change for all the cars in line before you.
There isn't alot to see at Meeks Bay, an engine block, crayfish, stone writings, and sunken trees, but the water is very warm (compared to the ocean) and the visability is excelent.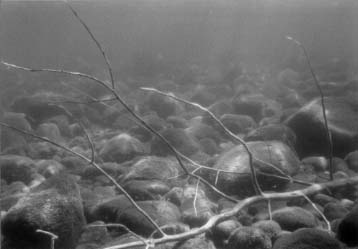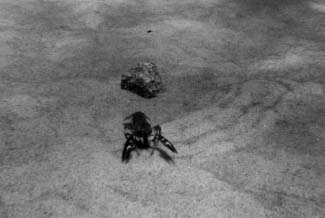 If you swim off shore a little ways, the lake bed drops off almost like a wall, and you can have lots of fun rolling rocks down the cliff creating underwater land slides, but ofcourse this is proabily illegal, and only and imature, iresponsiable, destructive diver would do that.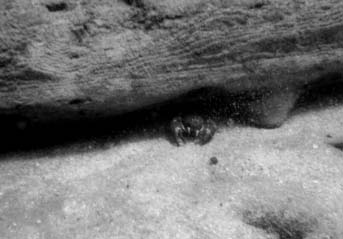 Although many people say Tahoe is not a very interesting place to dive, I like it alot. Where else in California can you dive in very clear warm water, get out of the water and drive to a Casino, gamble, and then have lunch in the Hard Rock Cafe?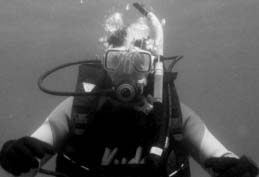 Chuck